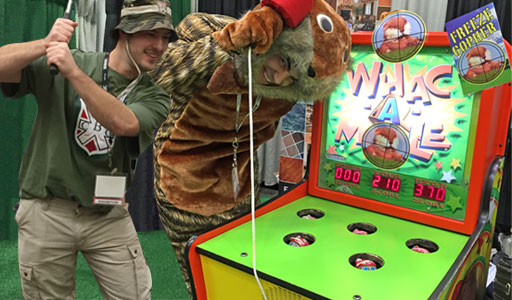 Unique Solutions to Liven Up An Event
Everyone loves a great game. As your local amusement game and arcade specialists, Lieberman Companies offers professional arcade-quality equipment rentals for any type of event.
Think Outside The Booth
Games are a great addition to a trade show booth. Stand out from the crowd with an alternative entertainment option. How about including a Golden Tee arcade game into a golf-themed booth? We once rented a Whac-A-Mole game for a local flooring company's trade show booth. They even had two employees dressed up as a Caddyshack-inspired gopher and golfer to complete the experience! Get creative – the possibilities are endless.
Corporate Event Entertainment
Provide exciting interactive entertainment at your next big company event. Whether it's a holiday party or large sales meeting, arcade game rentals offer a fun and noteworthy experience for co-workers and associates. How about renting a classic Skee-Ball? Why not incorporate a nostalgic game like Ms. Pac-Man into an 80's themed corporate party? Add your company's logo to promo items like hats and plush to place in a claw machine – you'd be surprised what a claw can pick up! Whatever type of game rental you choose, guests are sure to enjoy the unique experience.
Super Bowl Party Rental Ideas
The Super Bowl is typically a popular event, but considering it will be played in Minneapolis this February, there is even more buzz around it for Minnesotans. Hosting a Super Bowl party? How about renting a football-themed game like NFL Blitz, a great retro arcade game refurbished with a LCD monitor? What about a ticket redemption game like Goal Line Rush? The person who earns the most tickets wins a prize. We also offer a claw machine filled with football-themed prizes as a fun alternative.
Rent A Game Today
Ready to liven up your next event with a game rental? Contact Tim at 952-887-5393 or rentals@liebermancompanies.com for equipment pricing and availability.