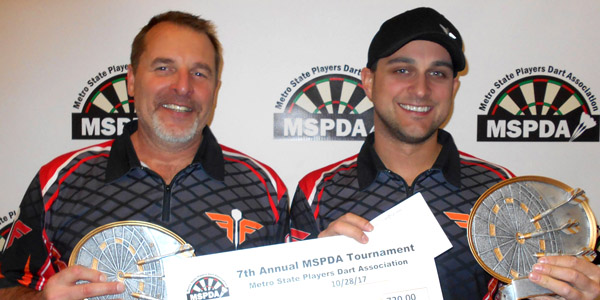 Successful Hinckley Dart Tournament
Dart players from across the state of Minnesota competed in the MSPDA Dart Tournament at Grand Casino Hinckley on October 27-29, 2017. Metro State Players Dart Association (MSPDA) has hosted this tournament every fall since 2011. MSPDA is a collaboration of 7 Minnesota operators: American Amusement Arcades (AAA), Aspen, Dean's, D&R Star, Eagle, Hazelwood, and Superior. Players must qualify through one of these operators to compete.
First Place AAA Winners
Several AAA dart players won first place finishes at the tournament. Rick Anderson and Jake Schreiber, pictured above, won first place for Level 1 Open Doubles 501. The pair also won second place for Level 1 Open Doubles Cricket. Big Swinging Tips, a team consisting of Bill Wood, Mike Nordsven, Tim Javes, and Bob Koosman, won first place for Level 4 Team Cricket. To see where all of our AAA players placed, view the MSPDA results.
Save the Date for Next Year
The 8th Annual MSPDA Dart Tournament will be held October 26-28, 2018 at Grand Casino Hinckley. For more information, visit the MSPDA Facebook page.