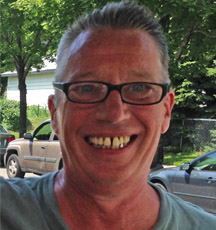 REMEMBERING PAUL
Lieberman Companies said good-bye to Paul Vader – a trusted, dedicated employee who was taken way too young at age 53. Paul's interests ran deep, especially when it came to music (our favorite shared interest), food, restaurants and politics.
Although not a big social butterfly, Paul was an expert at connecting with everyone in the company and understood what topics gave people joy in discussing. He was most interested in others and a great listener. He would suggest bands to embrace, new restaurants, or political candidates and at the same time take other's recommendations seriously (well, maybe not the political ones).
Paul's dedication to the company was second to none. When he started at LCI, he did not own a car and would take the bus and walk a mile to work. He never asked for a ride although eventually would accept one from time to time on cold days. He would monitor our ATM fleet on weekends, not because he was asked, but because he wanted to make sure things were going OK.
The apple of Paul's eye was Pahoua Lee, also a member of our team at LCI. Paul and Pahoua did many things together, even their own version of the TV show Top Chef. Paul taught himself how to roast a whole pig so he could host Pahoua's family at their annual summer outing. They loved New Orleans and made an annual trip there each year.
Rest in peace, Paul. Your life was a great example for others.