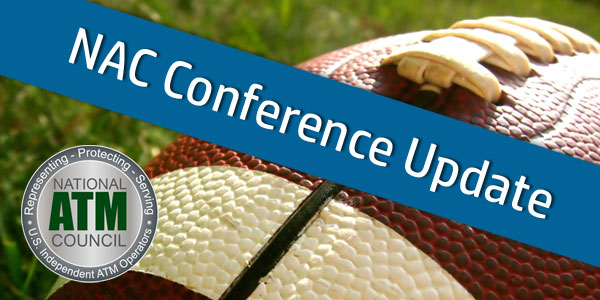 NAC ATMs Across America Conference
Like a good football game, last week's National ATM Council (NAC) meeting was focused on cranking up the ATM offense and playing good defense.
EMV Update
On the defensive side of the ball, the VISA EMV deadline has passed. The good news is over 70% of ATMs have been upgraded. The bad news is that 25% remain. EMV fraud overall has been at expected levels, but experts anticipate those numbers to increase as VISA now will chargeback any fraud on non-EMV terminals and fraudsters figure out where non-EMV terminals are located and target accordingly.
Additionally there is a concern that networks will monitor and punish for excessive "fallback transactions" (when an ATM ready terminal's chip reader does not work and transactions fall back to mag stripe).
Finally, both Hyosung and GenMega have upgraded software which should be downloaded onto your machines. These updates are highly recommended. Contact Trina for details.
Operation Choke Point
Also on defense, NAC, AMOA and others have successfully lobbied Congress to repeal Operation Choke Point. While the order is officially over, banks are slow to get the message and the major banks (Wells Fargo, Bank of America, Chase, etc.) look like they are not reversing their stances and welcoming back ATM operators. If you are having trouble with your bank, lets us know. Both NAC and AMOA offer helpful resources to work with your current bank or find a new one.
A Growing ATM Industry
Enough defense, let's talk about offense. The ATM industry continues to grow. What are your plans to let people know about your services? Referrals continue to be the number one source of leads. Do you have a program to reward current customers for bringing you a new one?
There are also several programs to facilitate person to person payments at the ATM: Pop Money, Pin 4, and others. At this point, they are still in the early stages but we are keeping a close eye on them.
Finally, Hantle has released a low cost CRM4000 coin sorter similar to ones used at supermarkets. With banks removing counters from their lobbies, this could be an add-on business if you are already handling coins. We are evaluating the opportunity and will report back within a few weeks.
That's our report. Please contact Dan Lieberman for any questions or if you would like to discuss any offensive or defensive strategies.