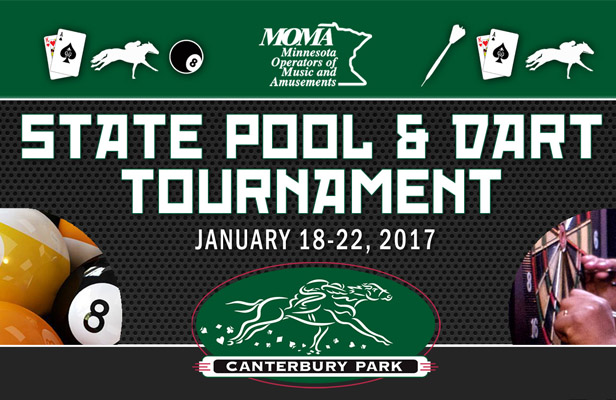 MINNESOTA STATE POOL AND DARTS
Pool and dart participants from nearly 20 different operators across the state will play at Canterbury Park in Shakopee, Minnesota this weekend for the 37th Annual State Pool Tournament and the 32nd Annual State Dart Tournament hosted by MOMA (Minnesota Operators of Music and Amusements). The tournaments provide a great opportunity for players of all levels to compete with their peers in team, doubles, triples, or individual competition while having a chance to win prize money and awards.
As one of the oldest associations and annual state tournaments in the country, MOMA takes pride in its charity work. At last year's tournament, MOMA hosted a "Save The Rack" 9-Ball pool contest that raised $1,000 for breast cancer awareness. All of this money was donated to the American Cancer Society Breast Cancer Unit, Duluth Chapter. MOMA has also raised more than $100,000 in scholarship funds over the years that have been awarded to college-bound students in the industry.
Good luck to our AAA pool and dart players competing in the MOMA tournament this weekend!