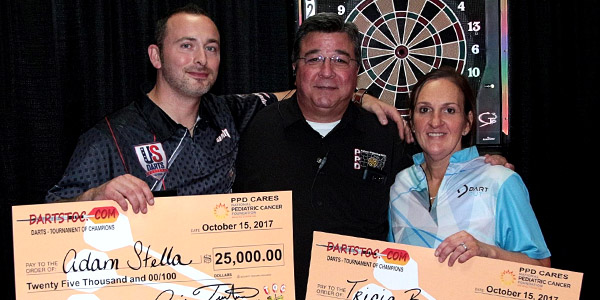 Local Dart Players Win Over $33,000
Partners Promoting Darts (PPD) hosted its annual Tournament of Champions (TOC) in mid-October at the KCI Expo Center in Kansas City. There were several dart league players from American Amusement Arcades (AAA) that earned the chance to participate this year. Our players won a combined total of over $33,000 in prize money!
Notable Winners
AAA's Tricia Romero along with Canadian player Adam Stella won the prestigious Gold Mixed Doubles Invitational Championship which was a $50,000 prize that they split. Tricia is the defending champion, as she won this title last year with Wisconsin player Randy Tulachka. Tricia has been a top player for AAA leagues for several years.
Additional winners include:
* Aaron Vogt & Dan Johns – 1st place for Open Doubles Level 8 both Sunday & Tuesday
* Brian Brown – 2nd place Mixed Triples Level 1
* Amanda Anderson, Rick Anderson, & James McConnell – 3rd place Mixed Triples Level 1
* Abby Spott – 4th place Women's Elite Finale
TOC Qualification
Players earn points for league and tournament participation throughout the year in order to qualify for a voucher. AAA is a member of PPD and offers traveling or in-house dart league competition in the Twin Cities. Click here to register for a dart league. AAA also hosts several TOC qualifying tournaments throughout the year. Check out our upcoming tournaments.
Partners Promoting Darts provides access to the largest network of leagues in North America. They host the annual TOC which is the largest paying dart event in North America with over $700,000 in prize money. For more information, visit www.dartstoc.com.
Photo above (l to r): Adam Stella, PPD's Jim Turntine, and Tricia Romero