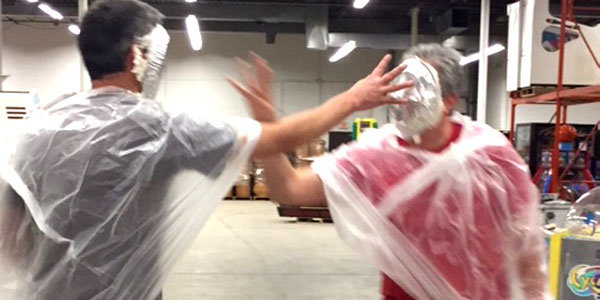 Giving Back
Every year, Lieberman Companies runs a United Way fundraising campaign for employees, friends, customers and vendors. It's a great way for our organization to do its part in helping to preserve our quality of life and to help those in need in the Twin Cities area.
United Way Fundraiser
This year, we held a fundraiser where employees voted for a manager to get a pie thrown in their face. The manager with the most money in their vote box was the lucky winner (or loser, depending on how you view it!). However, all the managers were good sports and each one ended up having a pie in their face. Below is the video of Dan and Hal's dual pie throw. All proceeds from our fundraising efforts went to the United Way.
Lieberman Companies/American Amusement Arcades has been consistently recognized by the United Way for excellence in our annual campaign on a per employee basis. A key part of our success is the support of our business partners who donate gift certificates, apparel, and other items to our raffle. To all those who donated items, thank you! We could not do it without your support.